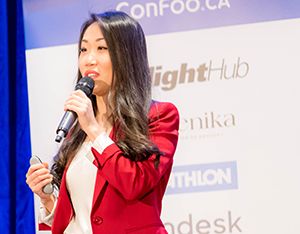 We are happy to open the call for papers of ConFoo Montreal 2021!
ConFoo is the gold standard of software development conferences. The Montreal 2021 edition will take place from February 24nd to February 26th 2021 on the EDT timezone. As always, we'll have a stellar lineup of renown international speakers, new, innovative and surprising topics as well as great pannels and Q&A.
If you have great knowledge or interesting experiences in the software development field, we want to hear from you! Submit your ideas today and become one of our speaker for ConFoo's next edition!
When to apply?
You have until October 16th to submit a talk. Once the submissions are closed, our selection committee will review each and every proposal and proceed with the selection. The list of selected talks will be published on November 15th.
What to prepare?
ConFoo talks are 45 minutes long: 35 minutes for the topic, plus a 10 minutes Q&A session. Check out the list of topics we are interested in. We encourage you to submit multiple talks!
How to get accepted?
You can go through our detailed guidelines to write your proposals. We also highly recommend to new speakers to prepare a 1-minute video with the intro to your talk so we can better assess your abilities.